Athletics
Hill-Freedman World Academy Athletics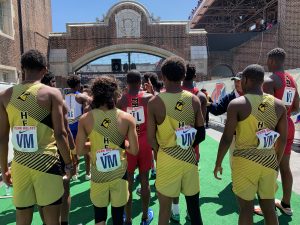 Hill-Freedman World Academy Families,
Welcome to the the 2019-2020 school year!  We look forward to a safe and energetic school year with our Athletics Program.  The goal of the Athletics Program is to support our students academically and physically to provide them with a positive experience on the field, court, or track.  In order to participate within the athletics program, each student must provide the Athletic Director with a PIAA physical (see due dates below).  Section 1-5 must be completed by a parent/guardian and signed.  Section 6 must be completed by a licensed physician, as well as signed, stamped, and dated by the doctor's office.
Physical Due Dates
Fall= August 9, 2019
Winter= November 11, 2019
Spring= February 24, 2020
Hill-Freedman World Academy offers the following sports:
High School
Fall
Girls Varsity Soccer
Boys Varsity Soccer
Girls Varsity Volleyball
Football (offered through MLK)
Winter
Girls Varsity Basketball
Boys Varsity Basketball
Boys JV Basketball
Indoor Track (Co-Ed)
Spring
Outdoor Track (Co-Ed)
Boys Varsity Baseball
Middle School
Fall
Co-Ed Soccer
Girls Volleyball
7v7 Football
Winter
Girls Basketball
Boys Basketball
Spring
Outdoor Track (Co-Ed)
Boys Baseball
HFWA Spectator Policies
HFWA does not allow away team spectators to any sporting event held within the building, including volleyball and basketball for middle and high school teams.
Please feel free to contact the Athletic Department with any questions or concerns at 215-400-3530.
Matt Snyder
Athletic Director
mdsnyder@philasd.org
215-400-3530 x 2331