Nurses Corner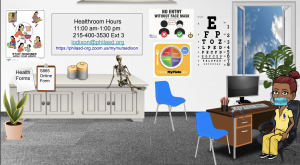 Remote Learning Resources:
Please join the Hill- Freedman Health Suite Google Classroom 
Open office hours: Monday – Thursday 11 am – 1 pm
Zoom link: https://philasd-org.zoom.us/my/nursedixon
---
School Immunization Clinics now OPEN: 
It's the rule, don't miss out on school! PA law requires all students attending school virtually or in-person to have their vaccinations by November 2.
Students that DO NOT receive vaccines by November 2nd will be marked absent until they have received their vaccines.
Read more on school immunization clinics here
---
Health Information
Required Forms
All HFWA students are required to submit a completed Student Medical Information Form (S865), linked on the right.
Vaccines
Pennsylvania law requires that all students remain current on vaccines or they may be excluded from
school or school activities.
School District of Philadelphia Vaccination Requirements
Mandated Health Exams
6th Grade & 11th Grade: Physical Exam
7th Grade: Dental Exam
Medication
If it is necessary for a student to take medication during the school day, please have the Medication Information Form, linked on the right, completed by their health care provider and signed by parent.
If you have any questions or concerns, please contact the school nurse at (215) 400-3530 or email lodixon@philasd.org & rmcampbell@philasd.org